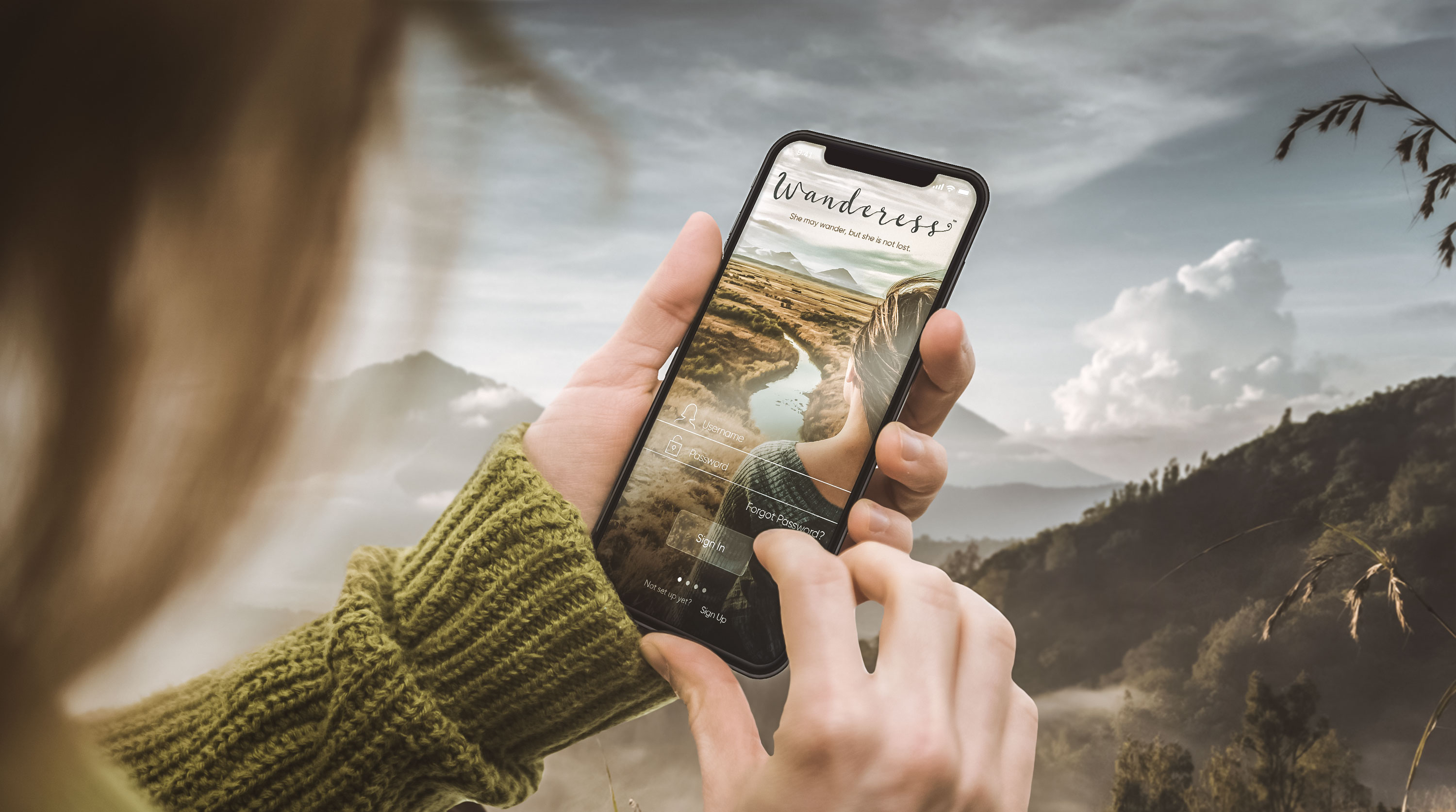 Travel journal & social networking app for women who love adventure
Wanderess™ is an app concept I am currently working on which combines a travel journal with a social networking platform. By providing a simple elegant interface to journal reflections and images Wanderess celebrates the sharing of these experiences to inspire, empower and connect like-minded women.
The app is designed to appeal to women who are on a quest to discover more about themselves through both solo travel and building connections with other women following the same passion. It is intended for women with a healthy active lifestyle who create challenges and goals, inspired by a strong sense of adventure and the willingness to try new things. Wanderess is committed to creating a supportive community that seeks knowledge spiritually and culturally through authentic travel experiences.
The philosophy guiding the app is solidly grounded in the belief that exceptional and unique adventures inspire the rejuvenation of the mind, spirit and body. Travel is one of the most influential experiences we have for understanding different cultures and when we truly connect with others, we have the opportunity to better understand ourselves.
Before I began my designs I wanted to really understand the psyche, needs and desires of who would be using my app. I focused on identifying my users, her goals and point of view. 
To highlight these goals and behaviors, I created several personas based upon my research and interviews. These personas helped me to understand my targeted demographics, emotions, behaviors, fears and challenges. My intention creating these personas was to generate empathy and connection with my potential users and hypothesize clears tasks they might take while using the app.
What does she want to do?
Now that I understood the needs of my users, I began to map out user flows, identifying the main tasks my personas would need to accomplish their goals. I was able to outline journeys that users would take through the information space of the app.
These flows helped me to create particular arrangements and specific sequences of activities, beginning to organize content and structure the initial navigation approach of the app.
Creating these user task flows also helped me to structure the paths that users would follow through my app in order to achieve their goals. Each user might choose a different path depending upon their specific information needs, perhaps stopping to explore different pieces of information along the way.
The main flows I focused upon were the onboarding sequence, navigating the activity feed, creating a travel story and sending a message. 
Task Flow: Onboarding

Task Flow: Navigating the Activity Feed

Task Flow: Create Travel Story

Task Flow: Create Message
Inspiration. Exploration. Connection.
Design of the app focuses on the seamless integration of two functions, a rich journaling capability and the ability to share these reflections while easily connecting with other members through public comments and private messaging.
While providing detailed features for handling written journal entries, an atlas and calendar feature are offered to help organize the travel stories and also easily chart the journeys through space and time. The app easily manages photos, location tags, weather data and syncing to other devices as well as the cloud. 
Onboarding & Activity Feed

Create Travel Story

Connect with friends
Onboarding & Activity Feed
The onboarding experience features dramatic sublime photography to convey the wanderlust spirit of the brand from a feminine contemplative point of view. The combined effect of the vast landscape and the female figure is empowering, confident and poetically mysterious. The palette is simple and subtle, intended to showcase striking imagery.
An activity feed of travel stories anchors the navigation, with links to member's journals and profiles. Content structure focuses on travel journals, each of which contain stories with written entries and photos labeled with the date and location. Stories can be easily organized and viewed in space and time through the atlas and calendar features.
Create a Travel Story
The heart of the app lies within the storytelling features of the travel journals. Travel journals may contain as many stories as desired, with detailed features for handling text entries and photos.
Location tags linked to image thumbnails easily mark the user's atlas so the trek can be viewed visually at a glance with the map feature. Tracking the stories on the calendar helps organize the entries, while also letting other users know when the traveler might be available to connect socially.
Additional details can be added by connecting weather data and tags are available to help capture the mood of the story and make it easily accessible for other users to find.
Connect with Friends
Social networking within the app is supported by a robust messaging platform. Accessible from the side menu, the app offers message history, a list of friends, the ability to display which friends are currently active and available for live chat, and also a group messaging feature.
High Fidelity Screen Designs
Celebrating a shared passion for a lifestyle of adventure
Following the sense of discovery & spirit of curiousity
Travel to unfamiliar destinations and cultures encourages confidence, inspiration and rejuvenation of the mind and body. Sharing authentic experiences with others who are like-minded within a dedicated platform can be incredibly motivational and transformative. Strong connections and deep friendships can be built upon a foundation of shared passions and interests. Providing a platform that nurtures and builds this community will encourage life changing experiences and the spirit of exploration, both within and without.
I am currently in the process of exploring funding possibilities to take Wanderess™ to the next level. I believe the concept is strong and there is both a need and desire in the market for the product. If you have suggestions, recommendations or would like to be involved please get in touch!