WANDERESS
UX CASE STUDY | UI DESIGN
Wanderess™ is a brand which combines a travel journal with a social networking platform. By providing a simple elegant interface to journal reflections and images, Wanderess celebrates the sharing of these experiences to inspire, empower and connect like-minded women.The project is of a dual nature, consisting of a responsive website and an accompanying native app.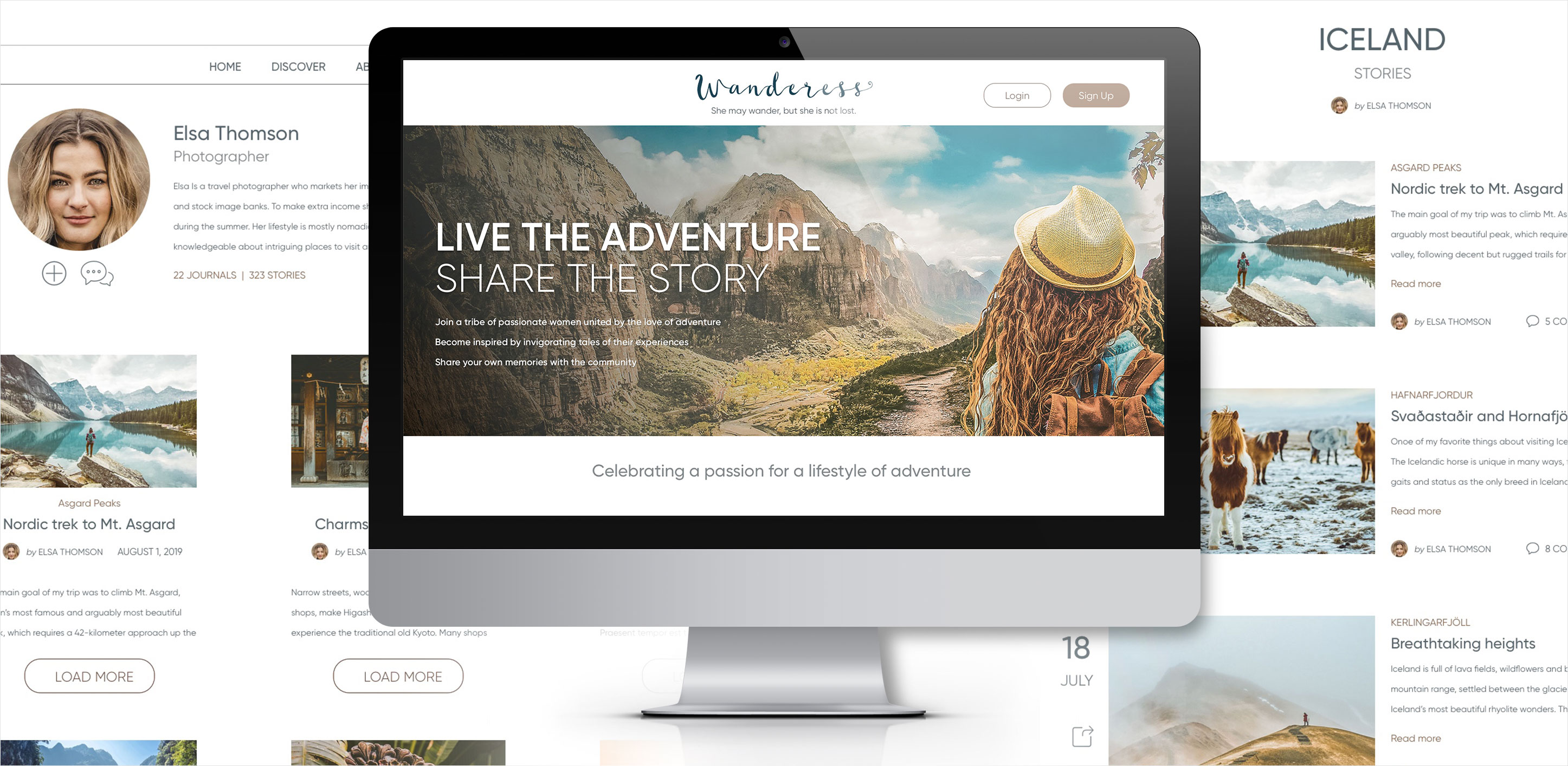 CONCEPT
LIVE THE ADVENTURE
SHARE THE STORY
Travel journal & social networking for women who love adventure
TWO PART PROJECT
RESPONSIVE DESIGN & NATIVE APP
Creation of the website came first as the concept was born to design a platform with the goal of connecting women united by the love of adventure and storytelling. The separately managed website, shares primary features with the native app and provides additional information about the Wanderess community with the goal of cultivating the brand's omni-channel experience. 

After designing the responsive website and speaking to many prospective users I realized that the addition of a mobile app would provide a strong opportunity to further accommodate specific user needs. Encouraging maximum flexibility with ease of use, an app would enable users to fully participate within the platform while traveling light and on the go. 
WHO:
Designed to appeal to women who are on a quest to discover more about themselves through both solo travel and building connections with other women following the same passion. Intended for women with healthy active lifestyles and a keen willingness to try new things. These women are inspired by a strong sense of adventure and the desire to share their stories.
WHAT:
Create a supportive community for female travelers to share travel stories and the knowledge of authentic travel experiences. The platform will accomplish this by combining travel journaling with a social network.
WHY:
The philosophy guiding the app is solidly grounded in the belief that exceptional and unique adventures inspire the rejuvenation of the mind, spirit and body. Travel is one of the most influential experiences we have for understanding different cultures. When we truly connect with others, we have the opportunity to better understand ourselves. Sharing these stories will bring joy, confidence and connection to those who use the platform.
Create an engaging solution that can easily document the unique experiences of solo female travelers and provide an easy way to share it with others through community.
ADVENTURE
Appeal to women with a passion for adventure and belief that travel experiences inspire the rejuvenation of the mind, spirit and body

SHARING TRAVEL STORIES
Celebrate and share the documentation of authentic travel experiences and memories

CONNECTION
Build relationships between like-minded women who share a love of exploration, discovery and curiousity for fabulous destinations

What is the problem space & the competitive landscape?
My goal was to create a solution that would easily document unique experiences of solo female travelers and provide a way to share it with others. I carefully analyzed selected platforms to determine which features were essential to create a streamlined experience and accomplish this objective.
In order to understand the current business landscape I researched two different types of companies, journals and solo female travel networks. I examined several journaling apps and digital diary platforms. I studied travel blogs and websites devoted to solo female travel.
Some of the most pertinent to my research are shown below:
How easily can I move through the platform?
Can I navigate the essential features & quickly find what I am looking for?
How easy is it for me to create a travel story & share it on the platform?
How straight forward is it for me to connect with like minded travelers?
How clear was the platform layout with regards to user flows & navigational structure?
Were the features organized logically within quickly understood design patterns?
How easily could I quickly understand the overall design and structure?
How effective was the integration of imagery within the travel stories?
What were the key qualities that made each platform a unique competitor? (some of the travel apps focused on safety, events, or network building)
What specific audience niche was the platform seeking to accommodate?
How does each brand's philosophy differ from its positioning? Can specific values be identified?
Examination of the journaling platforms helped me to evaluate which features were essential to organize content and create an inspirational travel story. Comparison of different template options within the various apps showed me which layouts were more successful for creating simple and immediate, yet poignant relationships between the visuals and accompanying written text.

Evaluating the many apps for solo women travelers was more difficult, as most of these platforms were trying to accomplish a combination of goals- often travel tips and information, safety, community building, in addition to the inclusion of travel stories, which were often included in the form of a blog. Often a clear focus was hard to determine as many of the apps seemed to be victims of feature creep and often features appeared to be afterthought included after the initial design. The more successful were those which focused solely on networking. In addition, a key attribute that emerged as very important was a strict verification process to encourage confidence in the community.

Summary:
There are many companies that excel in one of these themes (journaling or networking), and occasionally there is overlap between the two, but when that happened I found those platforms to be extensive and confusing, bordering on featuritis, as they expanded into events, tours, safety concerns and even bnb's. I decided to keep my design solution very simple with a clear focus with the priority on the sharing of travel stories by and for women. Social networking would be an important, but secondary feature.
How do we learn what she wants to do with the app?
What are your personal goals regarding the journaling of your travel experiences?

What is your biggest challenge right now with journaling your travel stories?

What are key features you would like to have on a journaling platform in order to document your travel experiences for personal use?

What key formatting features would be helpful for you to present these stories to other women?

What is your favorite way to connect to fellow female travelers?

Would you be interested in a social networking component in conjunction with the shared travel journal platform?

What types of activities would you like to be able to do with the social networking feature?
What were my key takeaways from the interviews?
Creative outlet
Collecting impressions of your experience really challenges you to See Things. Observe. Pay Attention.

Rich Memories
Narratives & imagery help to relive the adventures and bring the memories back to life with explicit references, capturing the uniqueness of your experience
Organize thoughts
Documenting experiences aids to clarify mental processes and learn more about yourself

Reflection
Encourages a meditative activity to look back on places and adventures while documenting the things you wish to remember
Share
Provides the ability to share tips and information you have learned to others
Inspiration
Sharing a rich exchange of ideas encourages feelings of motivation and excitement 
Knowledge
Creates opportunities to learn from each other, and gain understanding of people & places previously unknown by providing shared resources
Self Actualization
Stimulates self-awareness and a clearer perception of one's own personality, thoughts, goals, beliefs & motivations
Confidence
Stimulates self reliance and trust in one's own abilities being encouraged & supported by others
Challenge
Provides an eclectic diversity of opinions, ideas and knowledge, prompting constant re-evaluation of previously held beliefs
Would be wonderful to have a virtual treasure trove of travel stories to browse and help me decide where to travel next!
Having access to a community of active solo women travelers sharing their experiences would be something I would enjoy. Especially if I could ask specific questions about stories that really resonated with me.
I'd really be interested in reading about other women's adventures in places I am interested in traveling. It would help me understand more clearly what I am interested in myself.
I'd love to be able to connect to other women to ask for tips & suggestions based on authentic experiences. If I could read their stories I would feel like I could really trust their opinions.
A collection of travel stories from women like me would be amazing! I could discover all sorts of cool things to do that I might never know about otherwise.
Writing about my travel experiences is one of my favorite things to do. It helps me remember each moment and how beautiful it was, and in a way allows me to experience it all over again! 
Easy to use
The easier it is to quickly jump in and create the journal entry the more likely it will be able to happen.
Pleasing appealing interface
Clean and simple layouts will help keep thoughts focused and concepts in the foreground
Ability to include photos
Images definitely make the experience richer and robust
Automatic metadata
Details such as date, location, weather & even current music makes the entry more memorable
Hashtags | Links
Very useful to have the ability to tag entries for searching & easy crossreferencing
Syncing
Optimal for the platform to be accessible & update on all devices 
Reminders
Prompts can keep the momentum going and encourage a consistent practice of journaling. By reminding users of how many stories they have created during a certain time frame reminders can provide inspiration to keep the creative flow going.
Ease of Connectivity
Needs to be simple and clear how to socialize. Connections should require very little effort
Profile Customization
Ability to upload avatar, bio, interests, update status

User Following
Need to be able to follow others content and easily build followings
News Feed (User)
Ability to compress the user's own activities (journals) into a single view.

News Feed (Community)
Ability to generate flow of relevant content (other users' journals) for easy discovery
Notifications
Ability to leave comments & feedback on posts, "like" content
Private & Group Messaging
Ability to connect thru messages one on one, or to create groups
Privacy & Security
Imperative to have verification on the app for women only. Also, needs to have the capability to keep profile private if desire. Of course maintaining security of private information is crucial.
Before I began my designs I wanted to really understand the psyche, needs and desires of who would be using my app. I focused on identifying my users, her goals and point of view. This was easy because I learned so much about my users from my interviews!
To highlight these goals and behaviors, I created several personas based upon my research and interviews. These personas helped me to understand my targeted demographics, emotions, behaviors, fears and challenges. My intention creating these personas was to generate empathy and connection with my potential users and hypothesize clears tasks they might take while using the app.
Sharing the joy and experiences of my travels is one of the most beautiful things in my life.
Its wonderful to re-live the experiences over and over by sharing my stories.
—Elsa
It is fascinating to me to learn how others discover and explore the world.
By following the travels of others, their experiences illuminate my own journey.
—Moira
I love connecting with other women who share my passion for extreme adventure and exploration
—Patricia
What does she want to do?
Now that I understood the needs of my users, I began to map out user flows, identifying the main tasks my personas would need to accomplish their goals. I was able to outline journeys that users would take through the information space of the app.
These flows helped me to create particular arrangements and specific sequences of activities, beginning to organize content and structure the initial navigation approach of the app.
Creating these user task flows also helped me to structure the paths that users would follow through my app in order to achieve their goals. Each user might choose a different path depending upon their specific information needs, perhaps stopping to explore different pieces of information along the way.
Focus emerged upon navigating the activity feed, travel story creation and messaging. 
As a globetrotter and user of Wanderess, I want a way to create stories of my experiences in a inspiring way using images and text so that I can collect them all in one place and share them with other women in the community. 
—Elsa
Create a travel story and share it with the app community
Ability to publish or save a draft of a travel story to a new or existing travel journal, which will then appear in the shared news feed.
As a person who loves stories and a user of Wanderess, I want a searchable collection of authentic travel adventures written by other women so that I can learn about about other cultures and destinations through their experiences.
—Moira
Search and browse travel stories on specific themes/destinations
Ability to find and read travel stories written by other travelers in the community
CONNECT WITH OTHER TRAVELERS
As a sociable user of Wanderess, I want a way to connect with like-minded women who share my passion for adventure so that I can build friendships and an extensive social network .
—Patricia
Wants to be able to find new friends and travel companions that she shares interests with to compare experiences and possibly embark upon new adventures with them
Ability to find and connect to travelers in the community with shared interests
How to organize all this content?
THREE MAIN AREAS OF CONTENT
DISCOVERY | STORY CREATION | MESSAGING CENTER
After identifying the main tasks and content I wanted to include within the platform I began working on the overall structure. Several iterations later I created a site map that I could use as a framework for wire framing.
Primary focus is upon the journaling features and the messaging center. As the main intention of the platform is to create community, some of the stories are available to non-members so they can understand the offerings, but a user profile is required in order to have access to the full archive of travel stories and in order to make contributions.
The concept of a dashboard emerged to consolidate and provide easy access to the journaling and messaging functions unique to each user.
Visually mapping out critical features
Building upon my site map, I created rough low fidelity wireframes for my screens and went through another iteration process, examining how the overall structure was beginning to take shape.
The core of the design combines two key functions, storytelling and connection. The platform presents a rich journaling capability with the ability to share these reflections within itemized tagged archives, while easily connecting with other members through public comments and private messaging.
In addition to site utilities, the website channel also provides additional information about the Wanderess organization, such as Who We Are, Giving Back and Our Values.
Inspiration. Exploration. Connection.
My  intention for the platform is to create an engaging solution that can easily document the unique experiences of solo female travelers and provide an easy way to share it with others through community. I opted to use a clean minimal interface to showcase the stories and their accompanying visuals.
Fluid grids were used to make sure that the website would work smoothly and consistently on all devices and sizes. The content is organized into modules using combinations of flexible images, layouts and grids so it can easily adapt to whatever format is needed.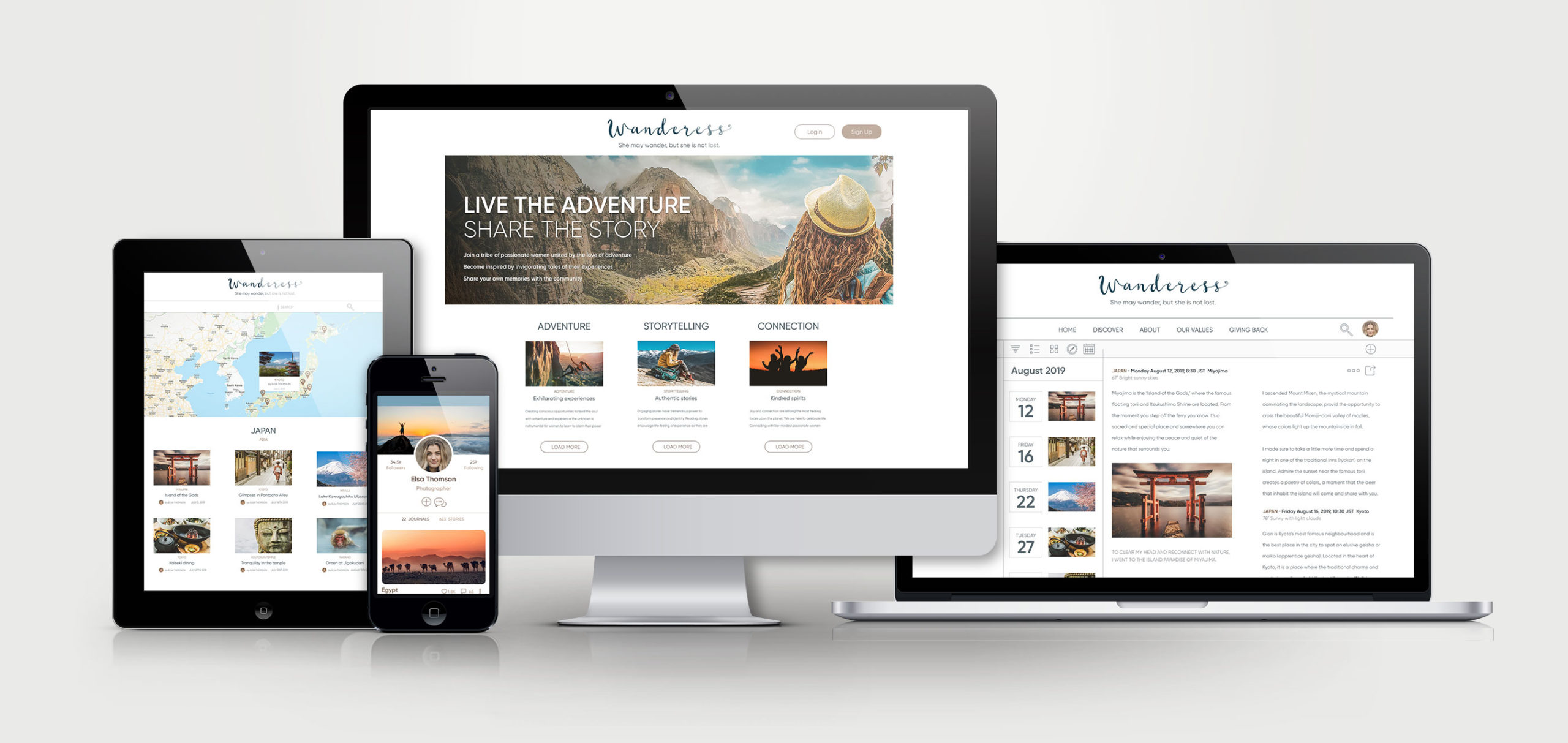 Emphasis on clean typographic styles and the ability to include imagery provides the writers with tools to present their stories clearly  in an elegant manner while being visually enjoyable to read.
Features are easily accessed by the main navigation bar at the top of the screen. A dropdown menu under Discover directs the user to explore writers and featured stories. Use of the search feature directs the user to an atlas, enabling the ability to pinpoint stories by location. When the user is logged in, the Home button accesses her activity feed, customized by favorite writers, locations and tags.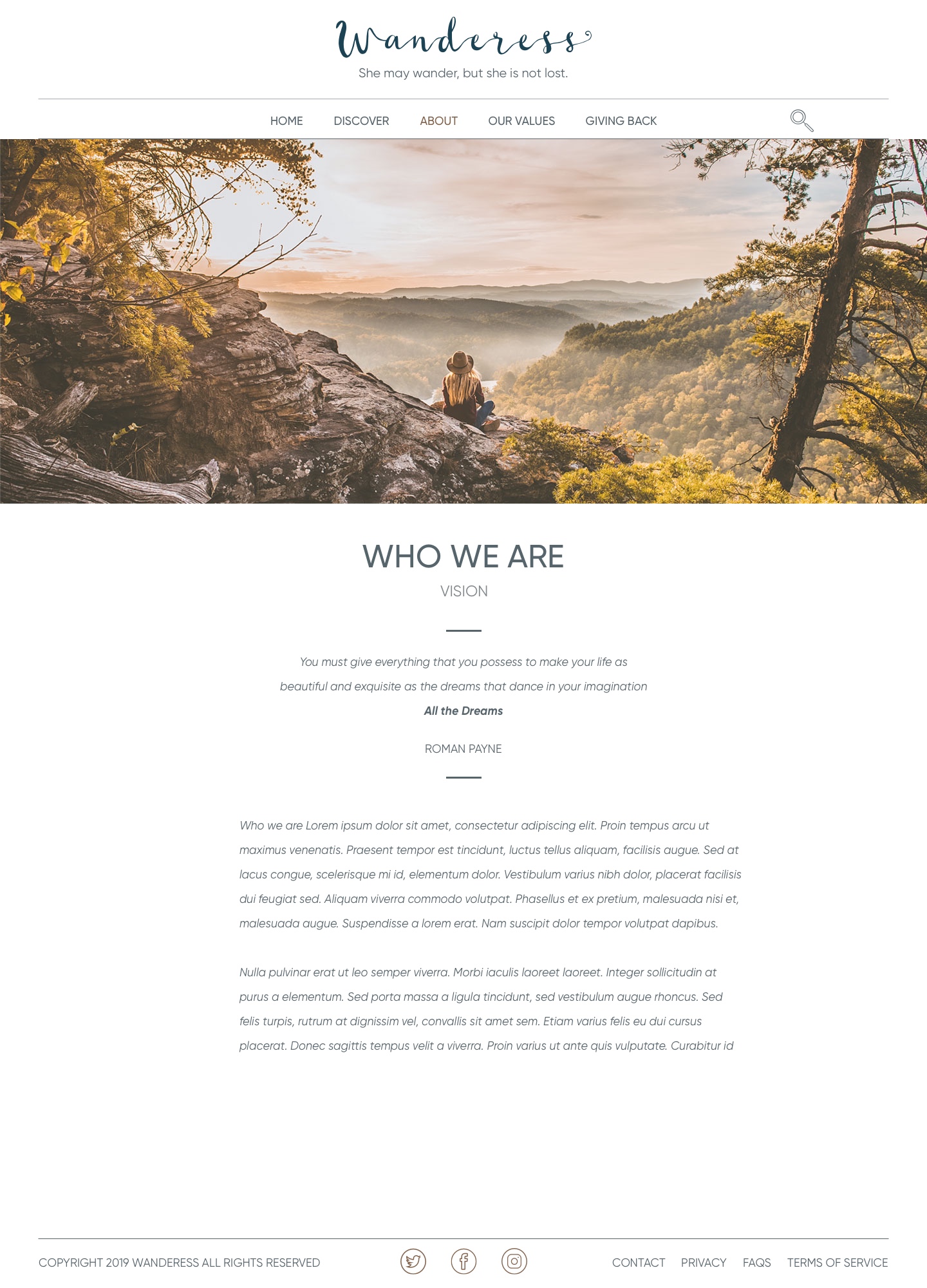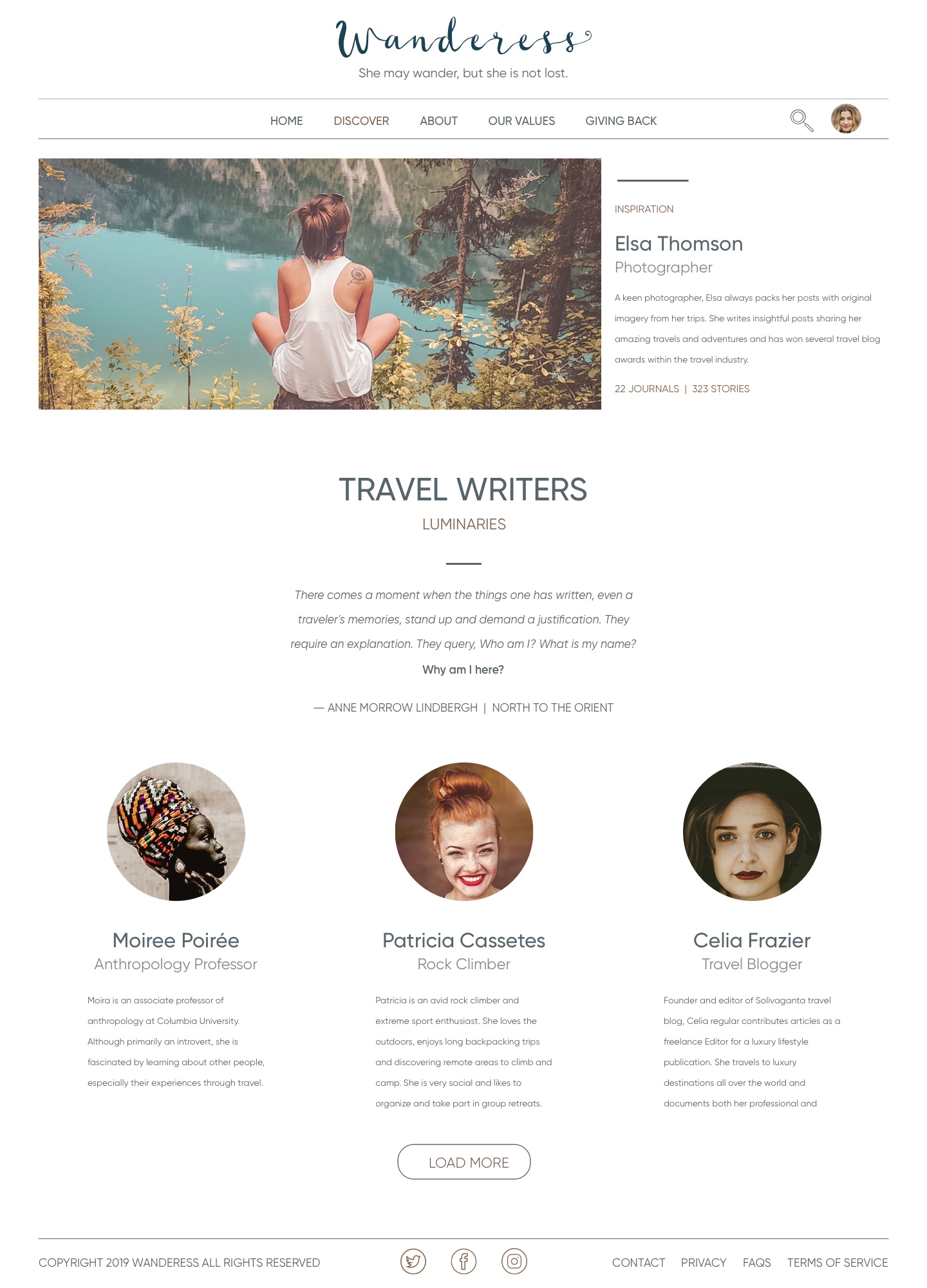 DISCOVER STORIES
ACTIVITY FEED & SEARCH
In order to view the full archive of community travel stories and journals requires a user profile, although featured highlights may be publicly accessible to present the platform's offerings.
Stories may be discovered by location (via map or search bar) or by the querying the name of the contributer. Stories and journals are tagged by location, author's name and theme for easy reference. Users may also discover new stories via their personalized activity feed which may be customized with specified tags and members added as favorites.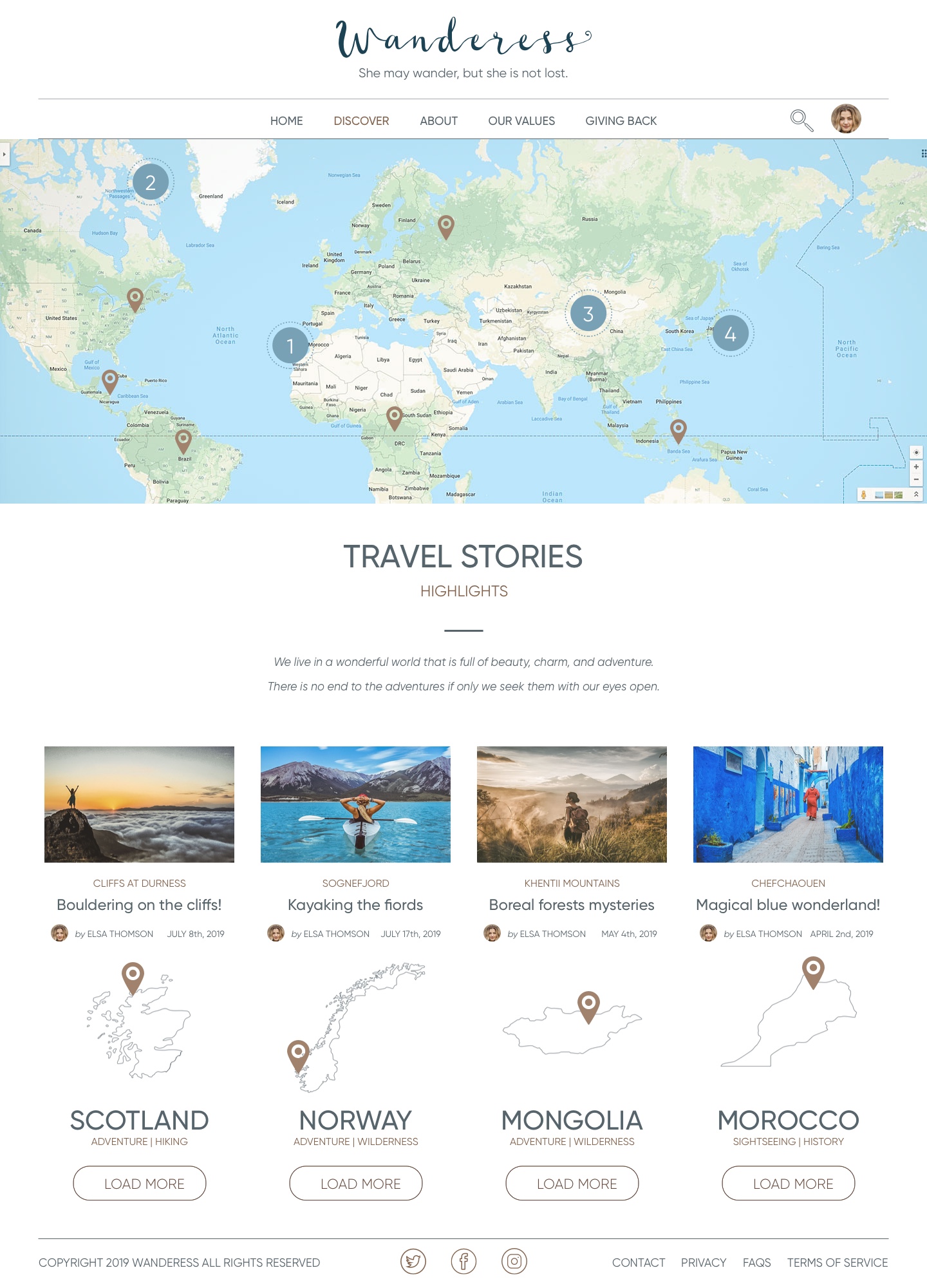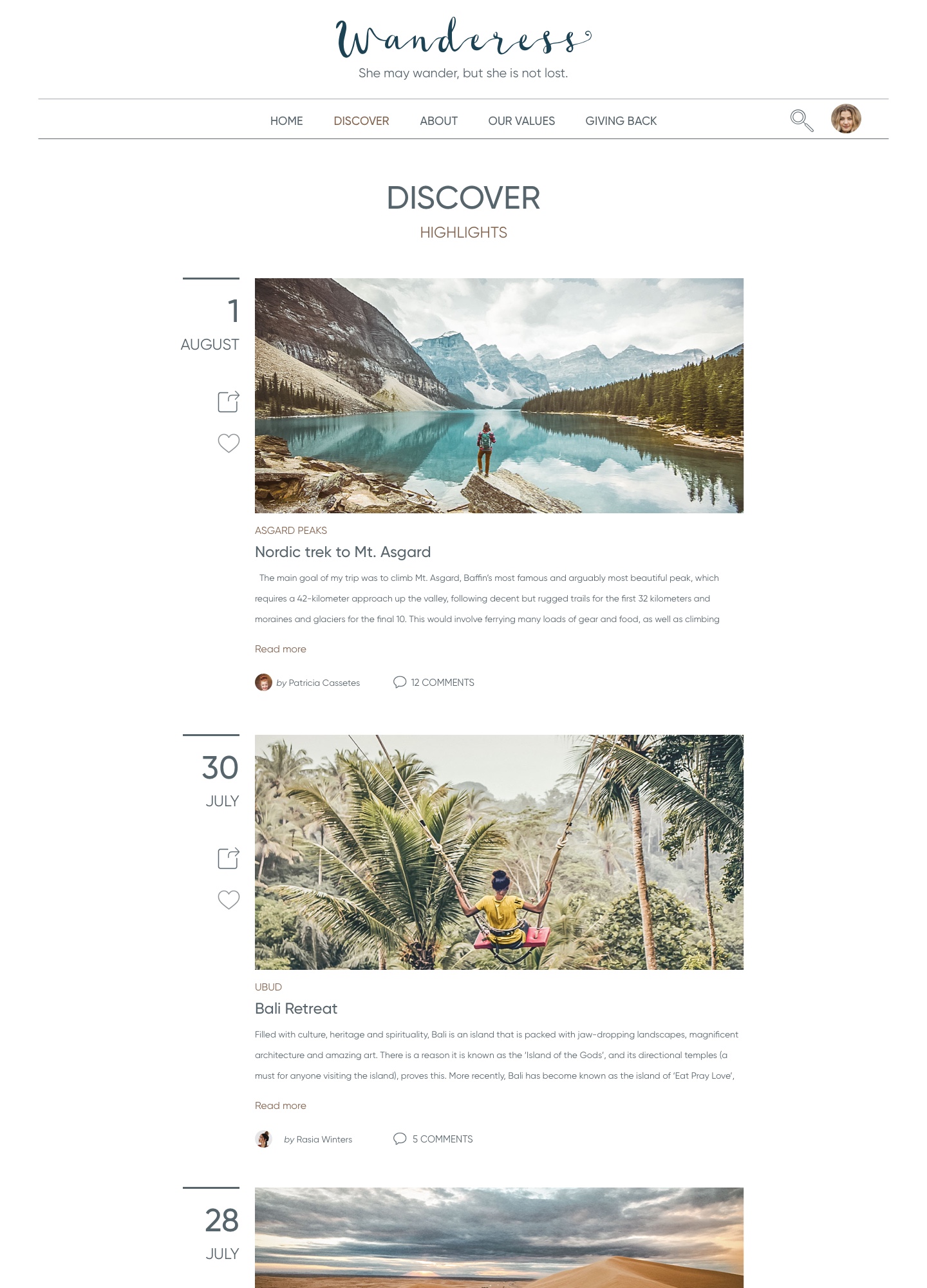 DISCOVER WRITERS
JOURNALS & STORIES
Contributing writers may be discovered in a similar manner as exploring travel stories, by querying the writer's name in the search bar, or by exploring writers by location if they have specified "Where I am now" in her profile.
Each wanderess has a profile page which presents her photo, bio, travel journals and stories which she may make public or private. The user profile page presents options to private message or add to favorites.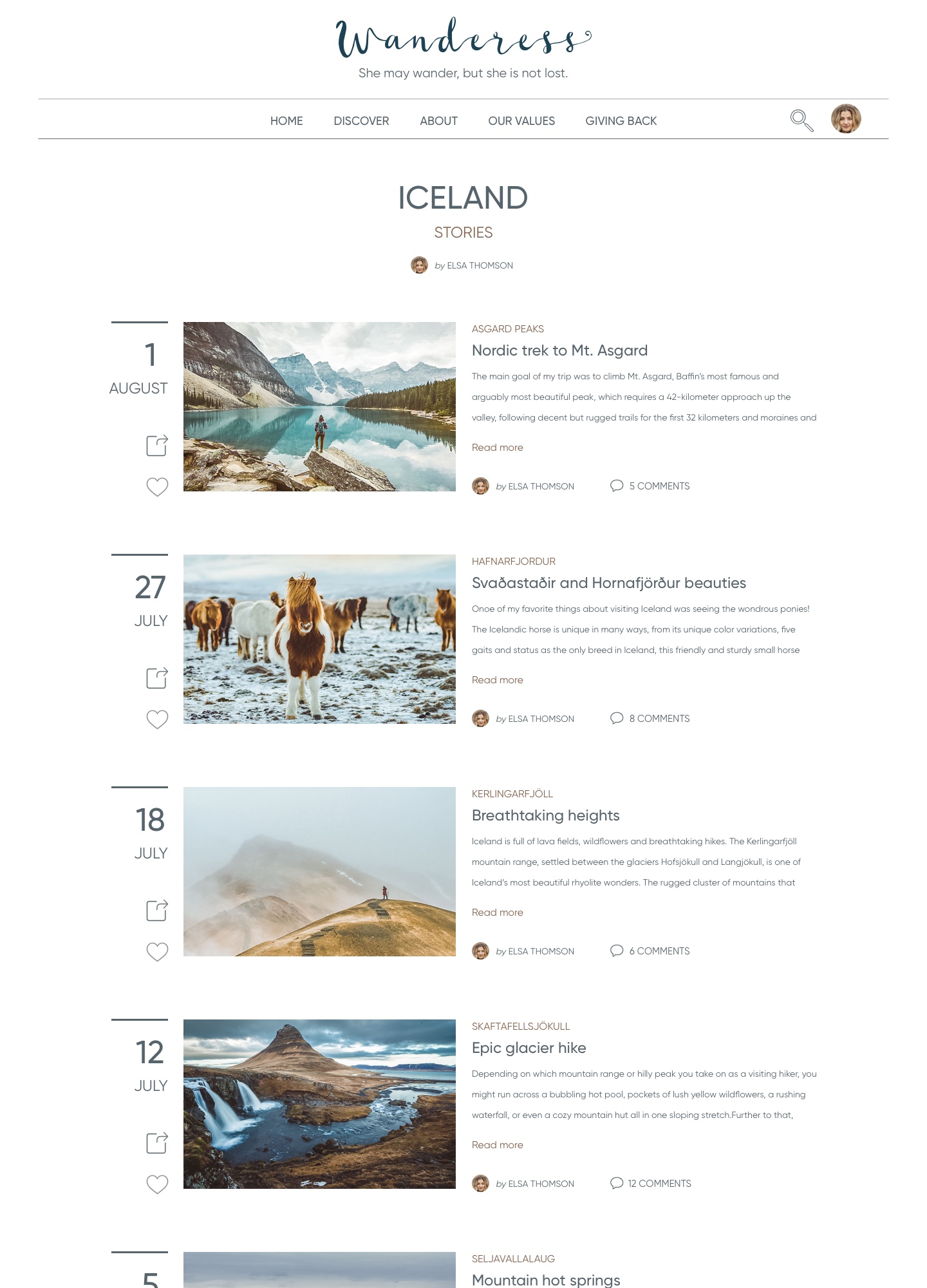 CREATE STORY
USER JOURNAL & STORIES
Dashboard design focuses on the seamless integration of two functions, a rich journaling capability and the ability to share these reflections while easily connecting with other members through public comments and private messaging.
While providing detailed features for handling written journal entries, an atlas and calendar feature are offered to help organize the travel stories and also easily chart the journeys through space and time. The app easily manages photos, location tags, weather data and syncing to other devices as well as the cloud.
USER PROFILE | TRAVEL JOURNALS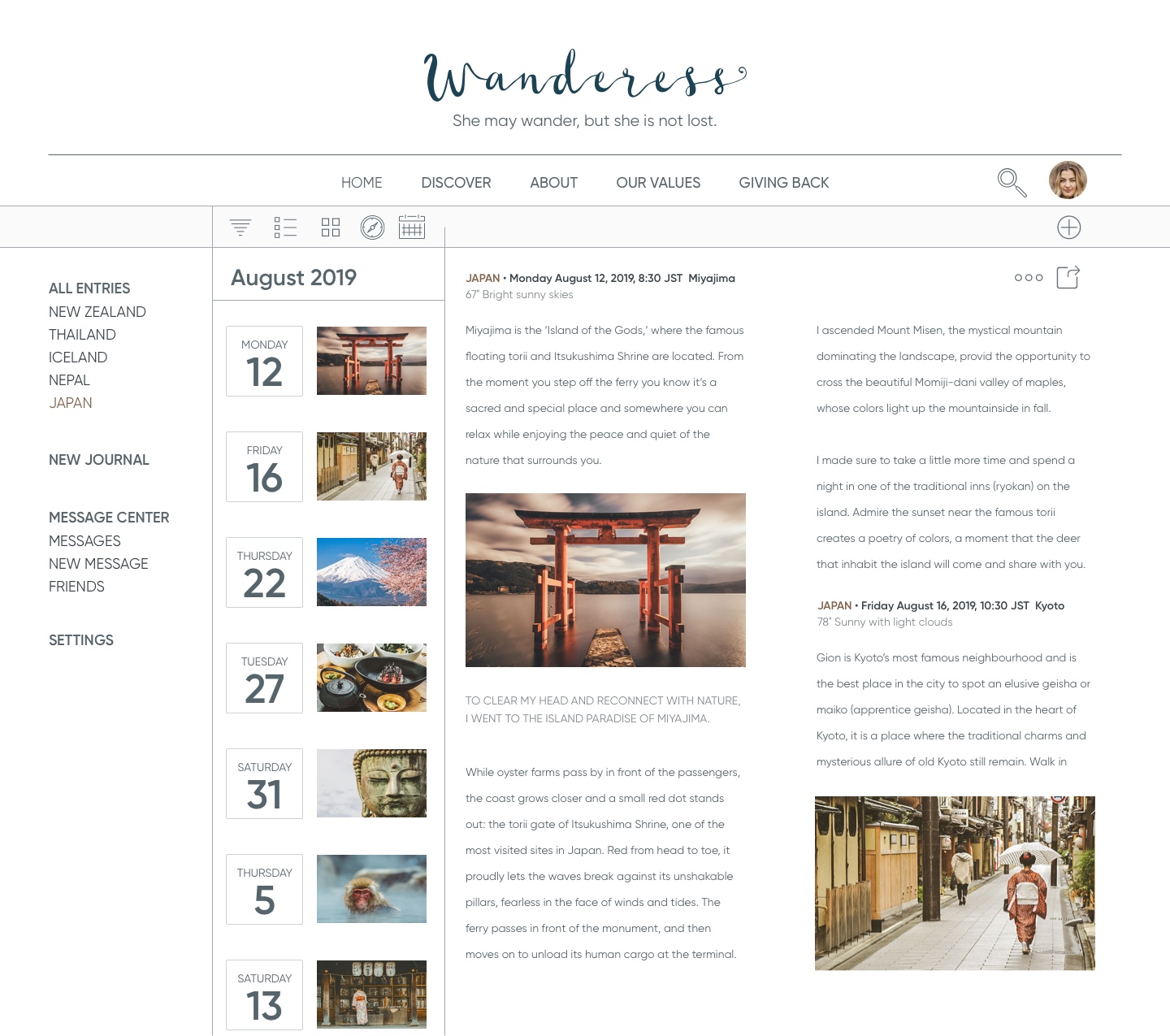 USER PROFILE | TRAVEL STORIES
USER PROFILE | TRAVEL STORY ENTRY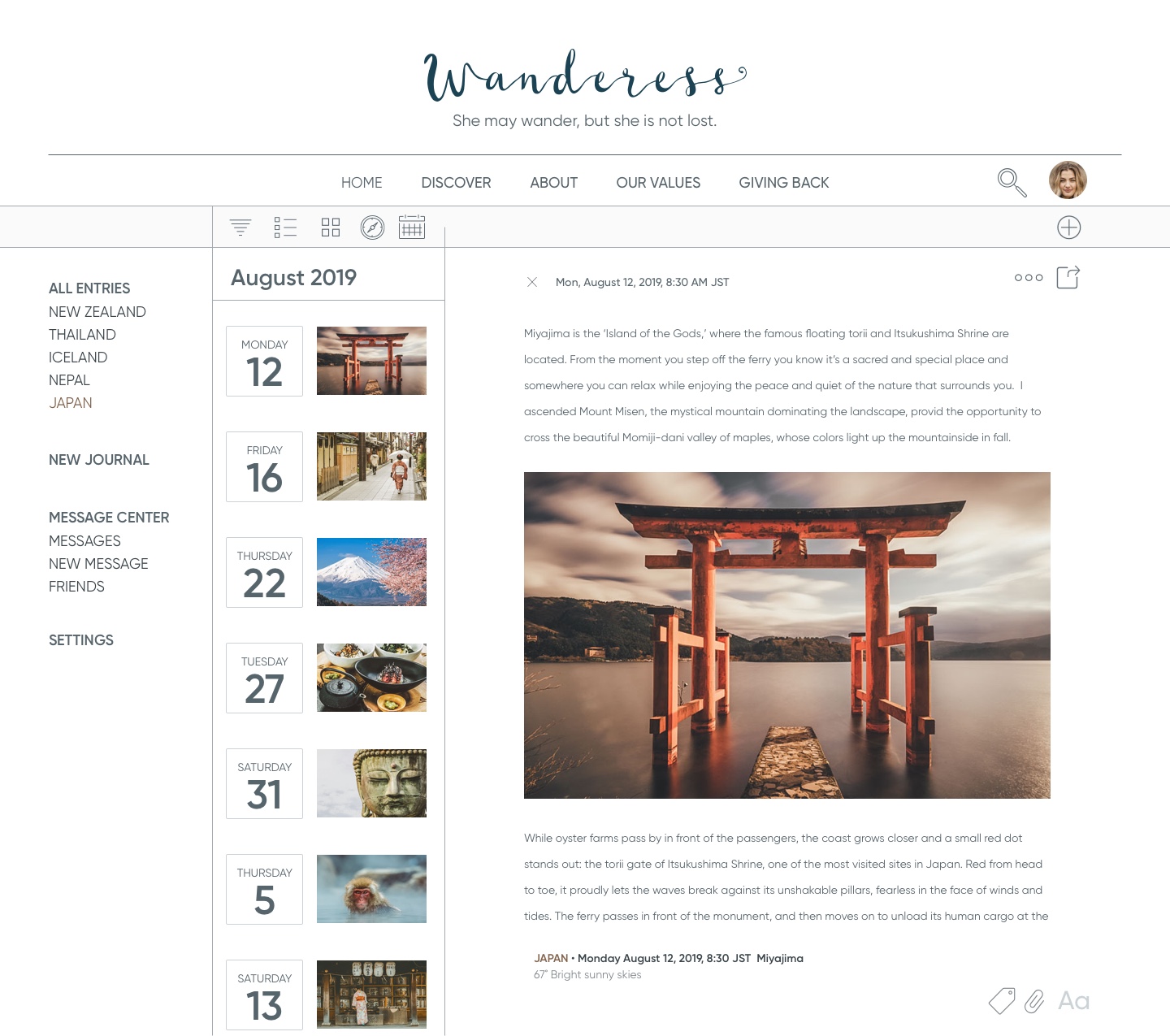 USER PROFILE | TRAVEL STORY ENTRY
CONNECT WITH FRIENDS
MESSAGE CENTER
Social networking is supported by a messaging platform. Accessible from the side menu, the app offers message history, a list of friends, the ability to display which friends are currently active and available for live chat, and also a group messaging feature.
USER PROFILE | WRITE MESSAGE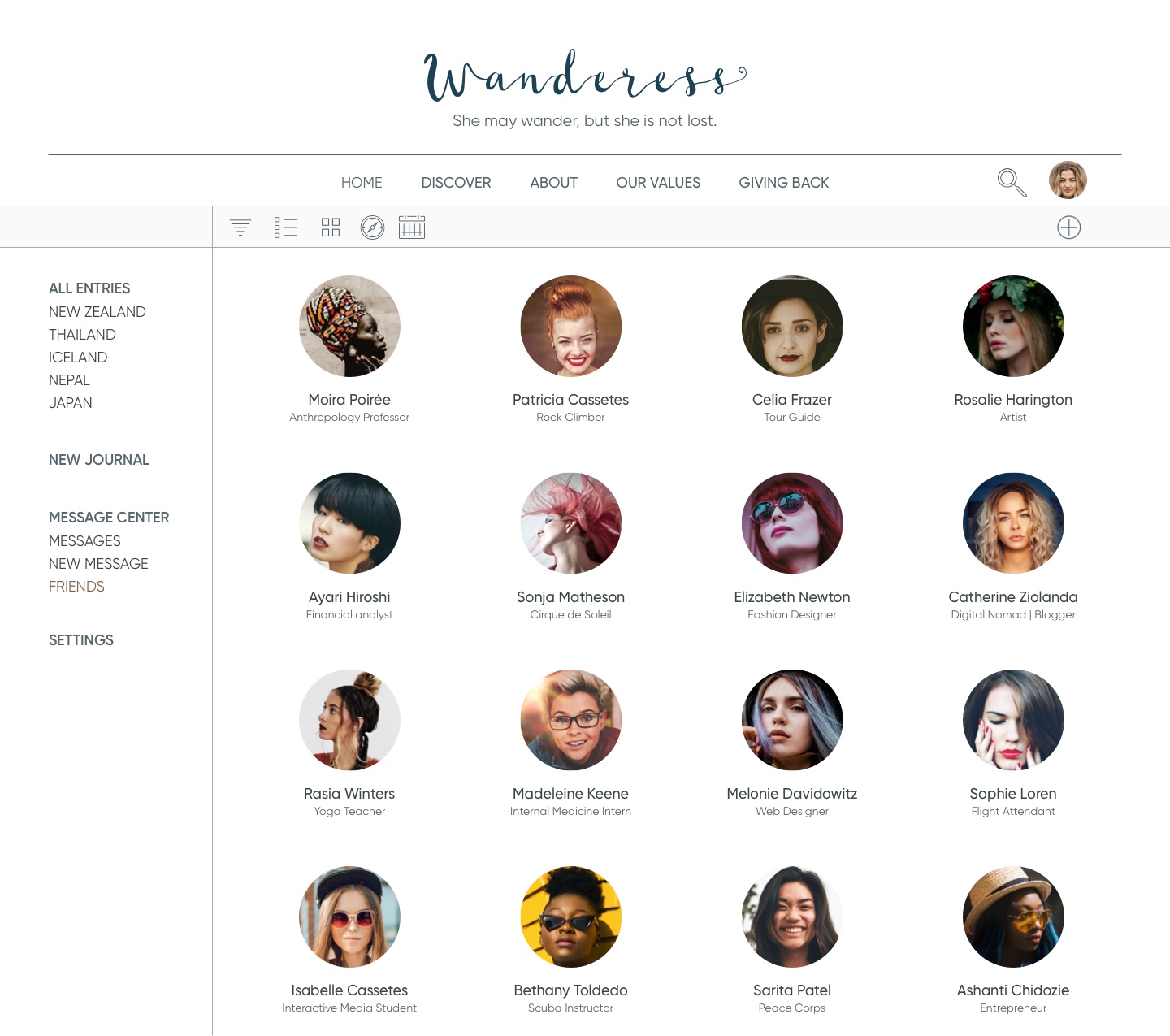 Celebrating a shared passion for a lifestyle of adventure

Creative. Customizable. Convenient.
Design of the mobile app focuses on the seamless integration of two functions, a rich journaling capability and the ability to share these reflections while easily connecting with other members through public comments and private messaging.
An intuitive interface provides a faster streamlined ability to engage with the platform's key features for on-the-go adventures. This new channel for engagement provides enhanced customization allowing users to become more immersed in the mobile experience and have the ability to access information anytime, anywhere.

Providing detailed features for handling written journal entries, an atlas and calendar feature are offered to help organize the travel stories and also easily chart the journeys through space and time. The app easily manages photos, location tags, weather data and syncing to other devices as well as the cloud.
ONBOARDING & ACTIVITY FEED
ACTIVITY FEED
Onboarding experience features dramatic sublime photography to convey the wanderlust spirit of the brand from a feminine contemplative point of view. The combined effect of the vast landscape and the female figure is empowering, confident and poetically mysterious. The palette is simple and subtle, intended to showcase striking imagery.
An activity feed of travel stories anchors the navigation, with links to member's journals and profiles. Content structure focuses on travel journals, each of which contain stories with written entries and photos labeled with the date and location. Stories can be easily organized and viewed in space and time through the atlas and calendar features.
CREATE TRAVEL STORY
Storytelling features within the travel journals are the heart of the app.Travel journals may contain as many stories as desired, with detailed features for handling text entries and photos.
Location tags linked to image thumbnails easily mark the user's atlas so the trek can be viewed visually at a glance with the map feature. Tracking the stories on the calendar helps organize the entries, while also letting other users know when the traveler might be available to connect socially.
Additional details can be added by connecting weather data and tags are available to help capture the mood of the story and make it easily accessible for other users to find.
CONNECT WITH FRIENDS
Social networking within the app is supported by a robust messaging platform. Accessible from the side menu, the app offers message history, a list of friends, the ability to display which friends are currently active and available for live chat, and also a group messaging feature.
Following the sense of discovery & spirit of curiousity
Travel to unfamiliar destinations and cultures encourages confidence, inspiration and rejuvenation of the mind and body. Sharing authentic experiences with others who are like-minded within a dedicated platform can be incredibly motivational and transformative. Strong connections and deep friendships can be built upon a foundation of shared passions and interests.
It is my hope that by providing a platform that nurtures and builds this community will encourage life changing experiences and the spirit of exploration, both within and without.
I am currently in the process of exploring funding possibilities to take Wanderess™ to the next level. I believe the concept is strong and there is both a need and desire in the market for the product. If you have suggestions, recommendations or would like to be involved please get in touch!