TATTD
PROGRESSIVE WEB APP
Tattd is the definitive tattoo app connecting people to tattoo artists perfectly tailored to their needs through advanced search, personalization and a database full of the most sought-after tattoo artists working today.
In the meantime, please check out the Tattd website & download the APP now!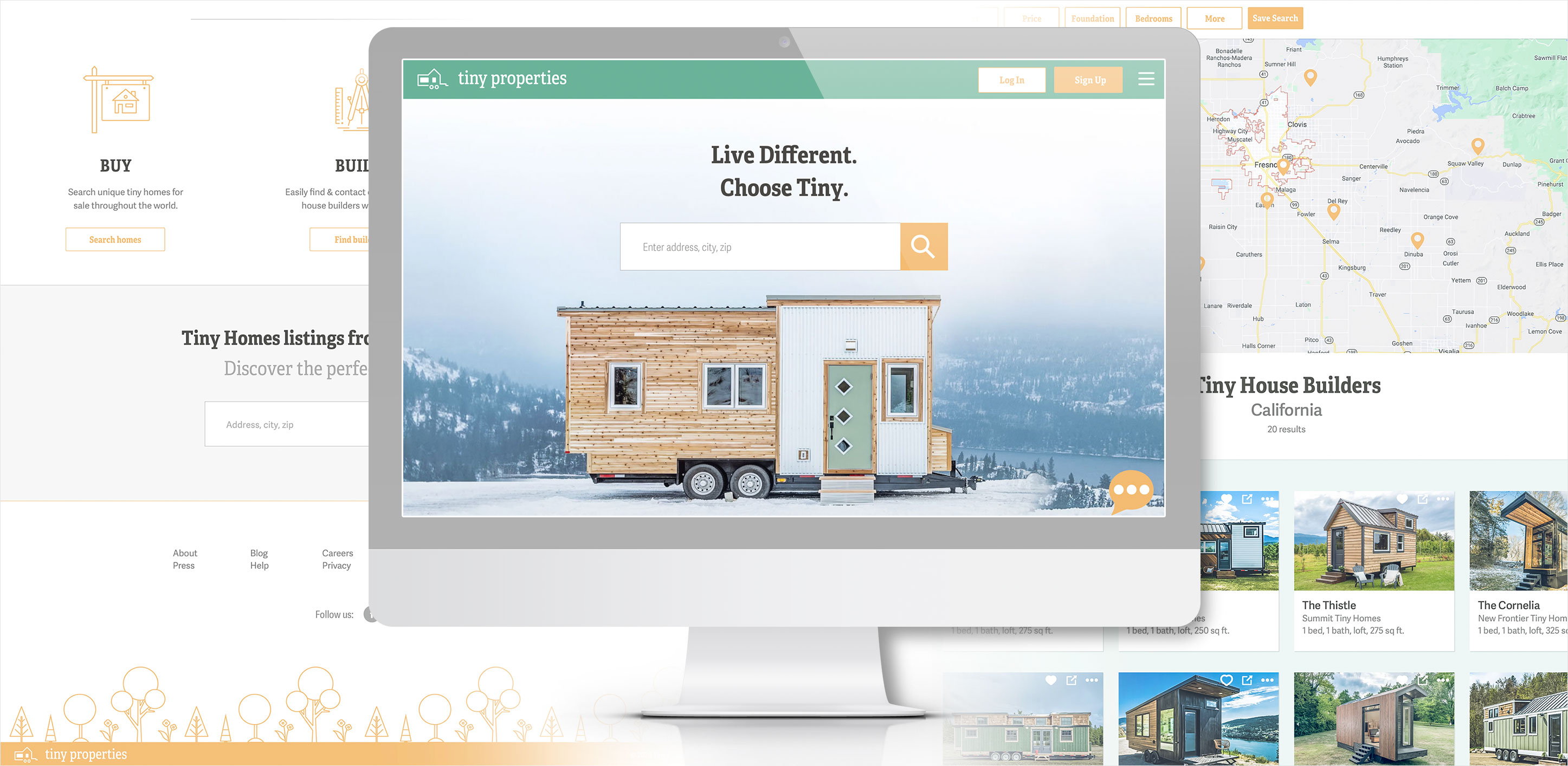 CONCEPT
LIVE DIFFERENT
CHOOSE TINY
Comprehensive collection of Tiny House listings and custom builders
Tiny House living has become a social movement. There is a growing desire to downsize living spaces as more people are choosing to simplify, and live with less. Everyday more people are embracing the Tiny life philosophy and the freedom that accompanies the Tiny house lifestyle.
Although information can be found on social media groups and blogs, currently there is no app and very few listing collections that provide access for people to discover tiny house properties, lots or communities. Interested buyers may struggle in their search without professional guidance and lose time viewing properties that do not have the features they are seeking.
The Tiny Properties web app provides the resources and expertise needed to find the perfect Tiny Home.
Tiny Properties is intended for people who are looking to purchase or rent a Tiny home (offering both new and previously owned listings) in addition to providing people seeking comprehensive information about the Tiny design & build process.
The web app will be useful for people researching listings as well as those seeking to build their own customized Tiny Home. The app's offerings will appeal to anyone who is concerned about life simplification, environmental consciousness, self-sufficiency and sound fiscal plans. Living the Tiny Life encourages eco-sustainability as well as allowing for more time and freedom to enjoy life adventures.
Responsive web app containing a comprehensive database of information on the sale of available tiny homes on wheels, stationery tiny homes existing in lots, in addition to information on tiny house communities. Also provides information on the design & build process, and access to a community for sharing feedback on Tiny House topics.
Unseasoned buyers need access to reliable, uncomplicated information about their potential tiny home investments or rental possibilities. Buyers will be able to get a feel for specific tiny homes by viewing comprehensive information about the properties, lots and communities before spending valuable time on-site.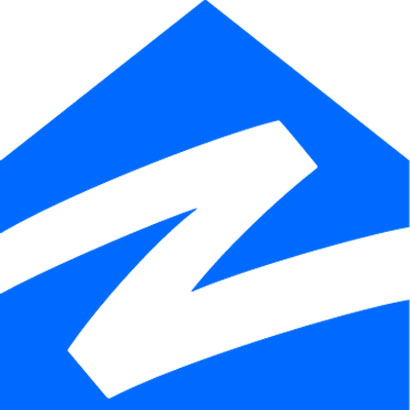 How easily can I search and find listings?
Can I quickly set up & save filter preferences in order to save time later?
How easy is it for me to find information on custom builds?
How straight forward and hassle-free is it for me to quickly get answers to my inquirires?
How clear was the platform layout with regards to user flows & navigational structure?
Were the features organized logically within quickly understood design patterns?
How easily could I quickly understand the overall design and structure?
How easily can I create a profile and perform customizable filtered searches and receive notifications?
What were the key qualities that made each platform stand out as a unique competitor?
What specific market sector was the platform seeking to accommodate?
How does each platform create a distinctive searching experience?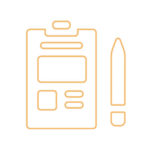 Creating a user profile is absolutely essential, so the user can perform various activities, such as establishing and saving search filters, creating a favorites list, make inquiries and receive push notifications.
Property Listings are the core feature and need to be clearly presented and detailed. A database with a content management system should standardize the presentation and be easy to use. Listings should include extensive information, including descriptions, photos, videos, price, and customizable features.
Advanced search options with categories and filters are needed to provide the means for users to easily locate properties that suit their needs
Map feature connected with third-party integration is critical to help the user search desired locations
Real-time Messaging that is fast and hassle-free is extremely helpful to directly connect buyers with property agents and owners to facilitate clear communication
Search & Filter
The easier it is to quickly jump in and filter listings the more likely it the user is to continue
Listing Feature
Clean and simple layouts are needed to present primary info of available properties immediately. Detailed property information accessed on listing click
Detailed Property Information
Listings must include details with basic features, seller contact, price and customization options
Interactive map feature
Must have map connected with the help of third-party integration. Helps user find listings in selected destinations easily. Using the map feature the platform can suggest listings near user's current location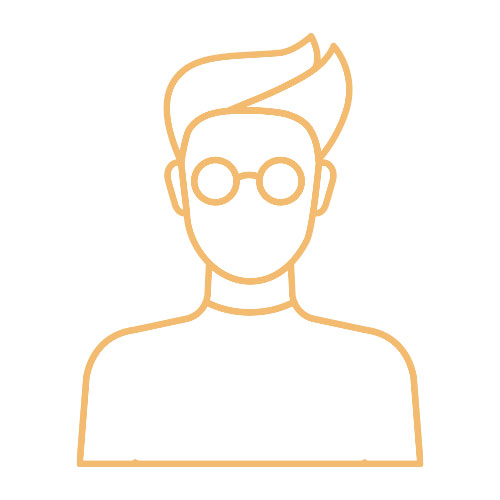 Loginization
Essential for the user to have a personal account
Favorites
Must have feature so user can keep favorites in one place so it is easy to find and reference properties they like quickly
Save Filter Preferences for Searches
Users want to be able to save filter preferences in order to expedit searches. Also useful to have capability to save different searches
Push Notifications
Ability to provide users with immediate updates replies to inquiries and new listings postings similar to designated preferences
Real-time messaging
Connections with property agents and owners should require very little effort, be hassle free and have immediate response
Typically Tiny Houses are homes with a square footage between 100 and 400 square feet. Although tiny houses are often on wheels and can be moved fairly easily, many are stationery, and often exist in communities.
Tiny houses are a focal point in a broader system to address issues, concerns, and problems of the current day. They offer a path to a smaller environmental footprint, greater financial freedom, and ultimately a self-sufficient life.
Who buys Tiny houses?
•Many are millenials.
•Average income is $42,038
•2 out of 5 tiny house owners are over 50.
•More women than men (55% compared to 45%).
•Tiny house owners are twice as  likely as other home buyers to hold a Master's degree
Who is interested in Tiny Houses?
Before I began my designs I wanted to really understand the psyche, needs and desires of who would be using my app. I focused on identifying my users, her goals and point of view.
Who lives in Tiny Houses? What is it that they find appealing about the Tiny Lifestyle and what are their goals and motivations?
To highlight these goals and behaviors, I created several personas based upon my research and interviews. These personas helped me to understand my targeted demographics, emotions, behaviors, fears and challenges. My intention creating these personas was to generate empathy and connection with my potential users and hypothesize clears tasks they might take while using the app.

Customizing the design of my home is an amazing way to express myself and choose my ideal surroundings.
I can't wait to build my Tiny Home on wheels and take it on the open road to explore!
—Marcus
"At this point in my life it is a good time to focus on taking care of myself and spending as much time as possible doing the things I love to do.
A Tiny House will help me celebrate these wonderful years of retirement by minimizing financial stress and housework.
—Catherine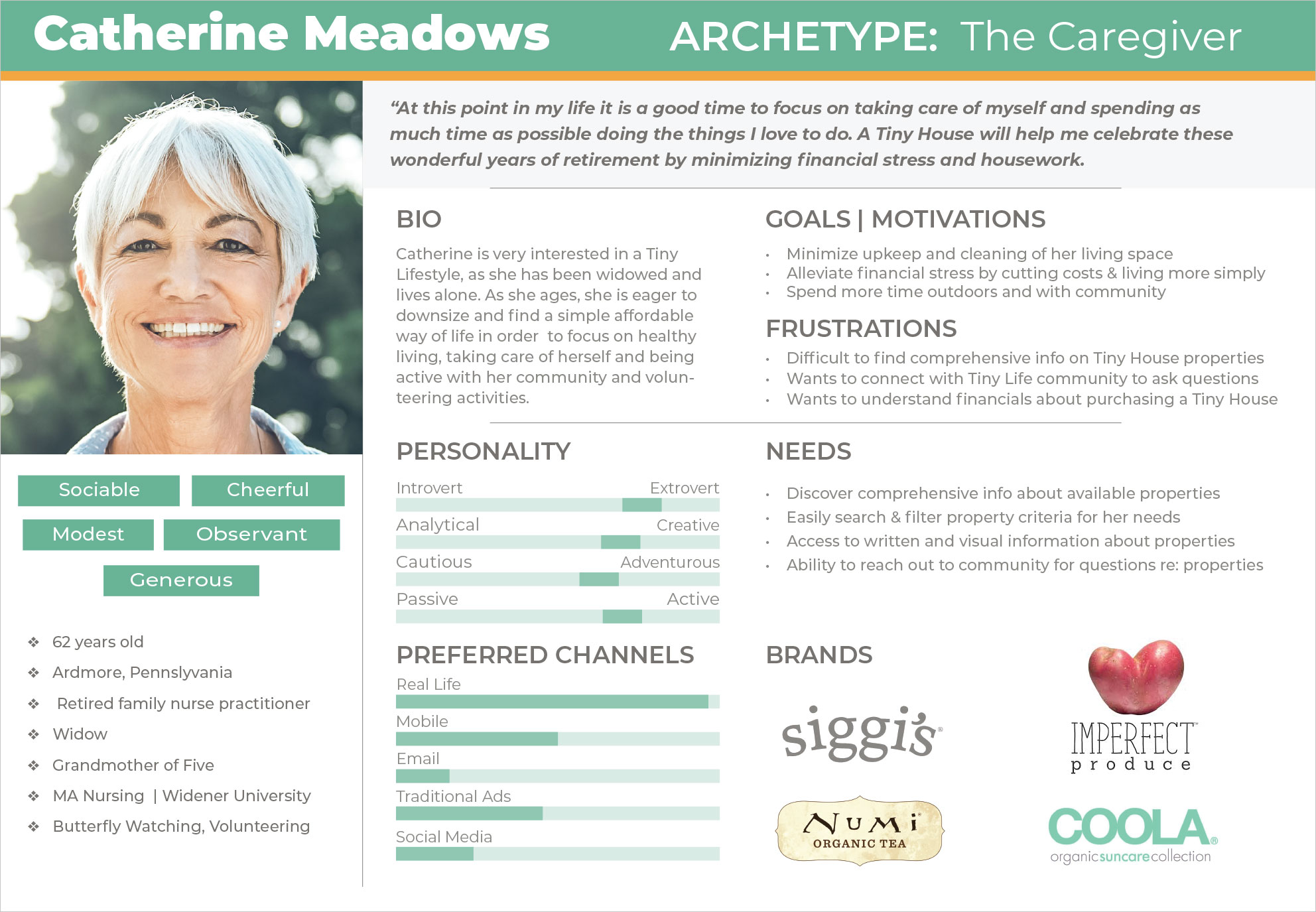 The Tiny Lifestyle is perfect for me as my priorities are for my family to be environmentally conscious and minimize our consumption.
I believe that living in a Tiny House will encourage us to enjoy the finest things in life, the time to spend with each other and nature.
—Deidre
How to create the most convenient efficient and easy searching experience
Now that I understood the needs of my users, I began to map out user flows, identifying the main tasks my personas would need to accomplish their goals. I was able to outline journeys that users would take through the information space of the app to conduct specific searches.
These flows helped me to create particular arrangements and specific sequences of activities, beginning to organize content and structure the app navigation. Creating these user task flows also helped me to structure the paths that users would follow through my app in order to achieve their goals.
Key Goals:
•quickly set up customizable profile with specific filtering preferences 
•Ask agents questions and receive answers immediately
• find custom build information effortlessly
SIGN UP & SET PREFERENCES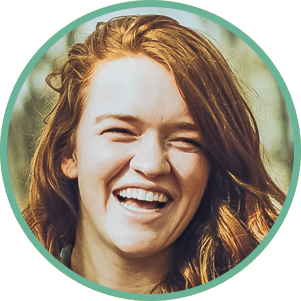 As a eco-conscious parent and user of Tiny Properties, I want a way to easily create a profile, set up my search preferences and quickly start searching for my Tiny Home!
—Deidre
Sign up, create profile & set desired preferences
Ability to create profile & set desired preferences to view results
FILTER, SAVE SEARCH, CONTACT AGENT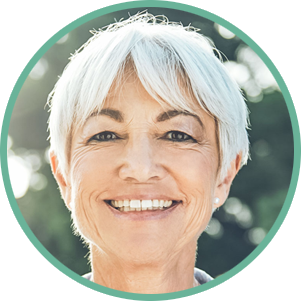 As an active retiree and user of Tiny Properties, I want a way to filter through available properties based on my preferences, save properties I am interested in and easily contact an agent for more information about these properties.
—Catherine
Save selected properties and contact agent for more info
Ability to evaluate filtered results, save selected properties to a list and contact an agent for further information & inquiries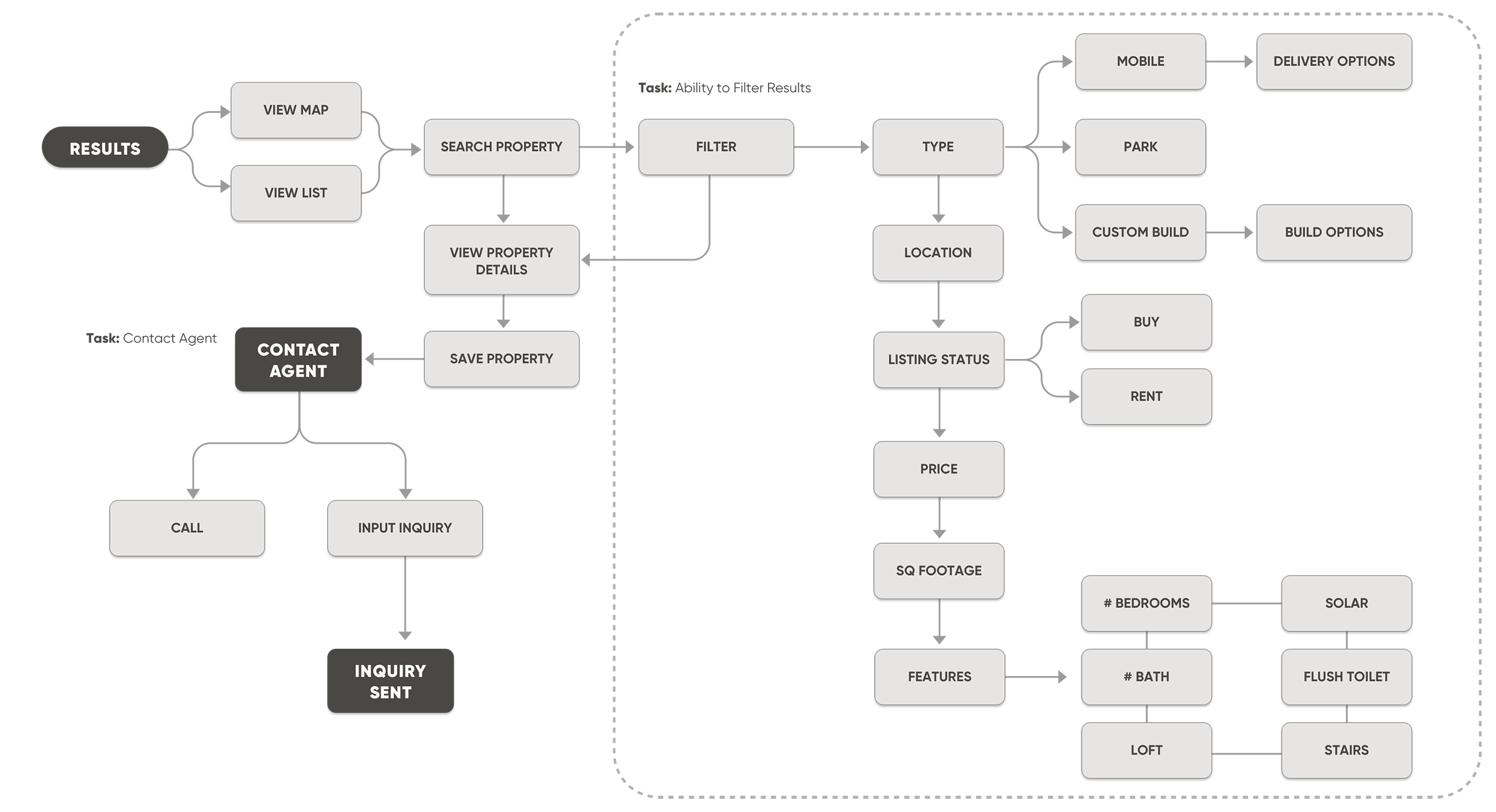 FIND INFORMATION ON CUSTOM BUILD
As a designer and user of Tiny Properties, I want a way to explore a variety of Tiny House custom build options and the ability to contact experts with questions.
—Marcus
Find comprehensive information on Tiny House custom build options
Ability to find written and visual information on Tiny House custom build options and contact an expert for further information
How can I begin to visually map out the features?
Wireframes are an exciting step as they show my initial research and ideas coming together in a tangible form. Starting with these low-fidelity frames, and then strategically adding detail moving through itinerant stages of development, these mockups allowed me to focus on the fundamental structure and navigation over beautiful visual design and complex features.

Optimistic. Confident. Progressive
Engaging and on trend, a bright color palette and card style creates a fun appealing interface which I believe will be inviting to people who are searching for Tiny Homes. This demographic is interested in alternative ways of living and overall lifestyle patterns. They have different motivations than people typically searching for traditional real estate properties, which tends to be a more conservative market.
Playful icons and cheerful accents create an inspiring platform exuding a sense of fun while retaining an air of professionalism coupled with authenticity. Contemporary and on trend, the bright yellow hue used for the CTA's evokes happiness and optimism, as well as warmth and energy. Balanced by the cooler mint green which conveys feelings of nature, growth and harmony, the two main colors connect well with the environmental and sustainability goals of many within the Tiny Home community.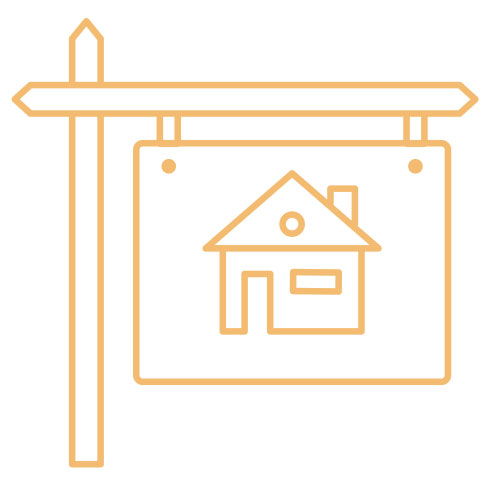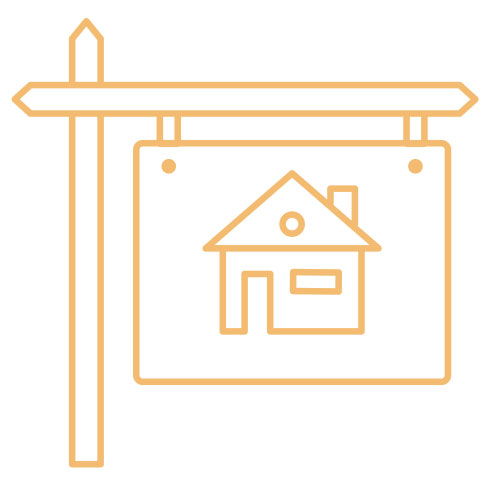 PROPERTY LISTINGS
Property Listings are the core feature of the platform and are to be clearly presented and detailed. A database with a content management system standardizes the presentation and property descriptions are easy to post and read.
Listings should include extensive information, including descriptions, photos, videos, price, and customizable features.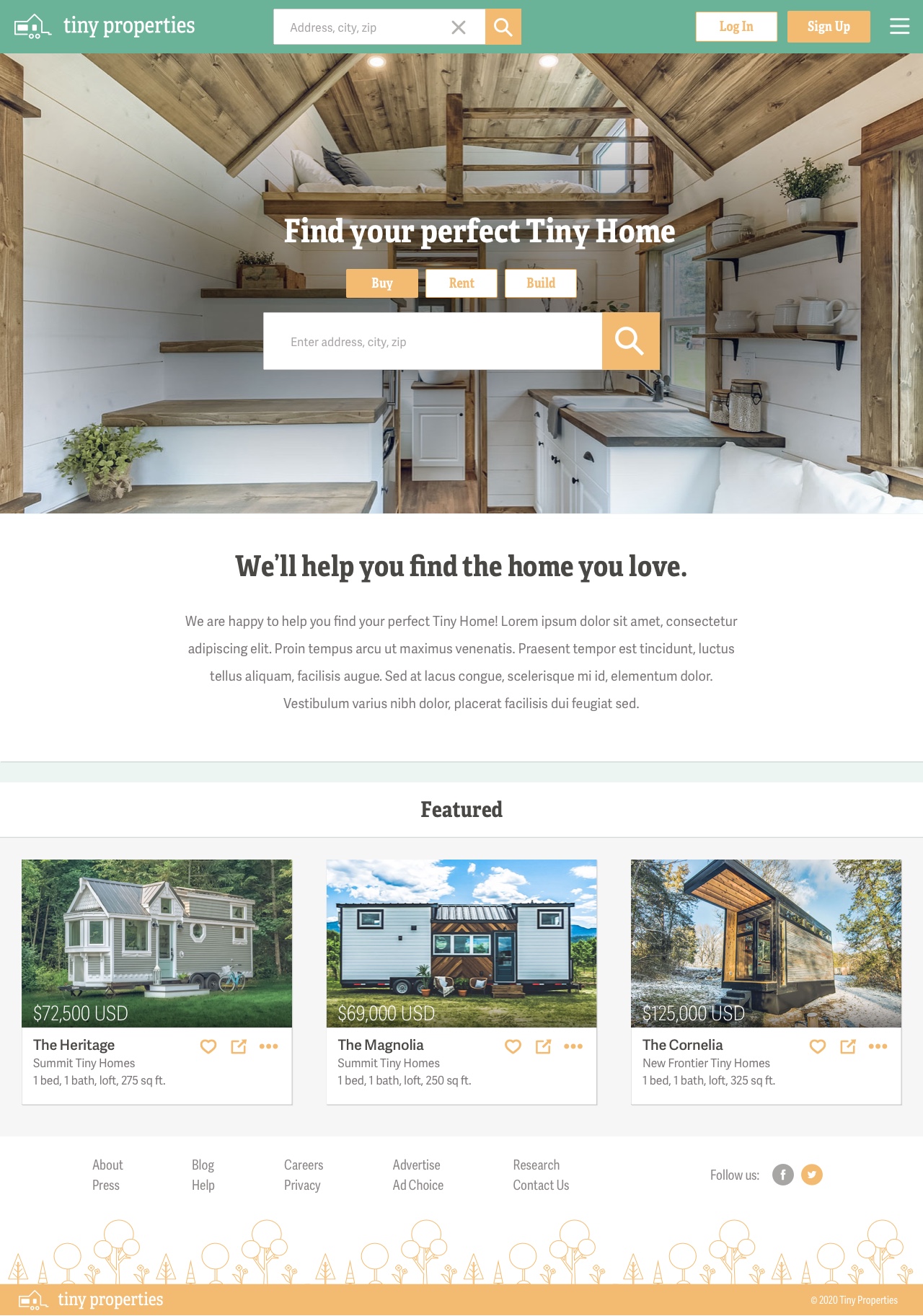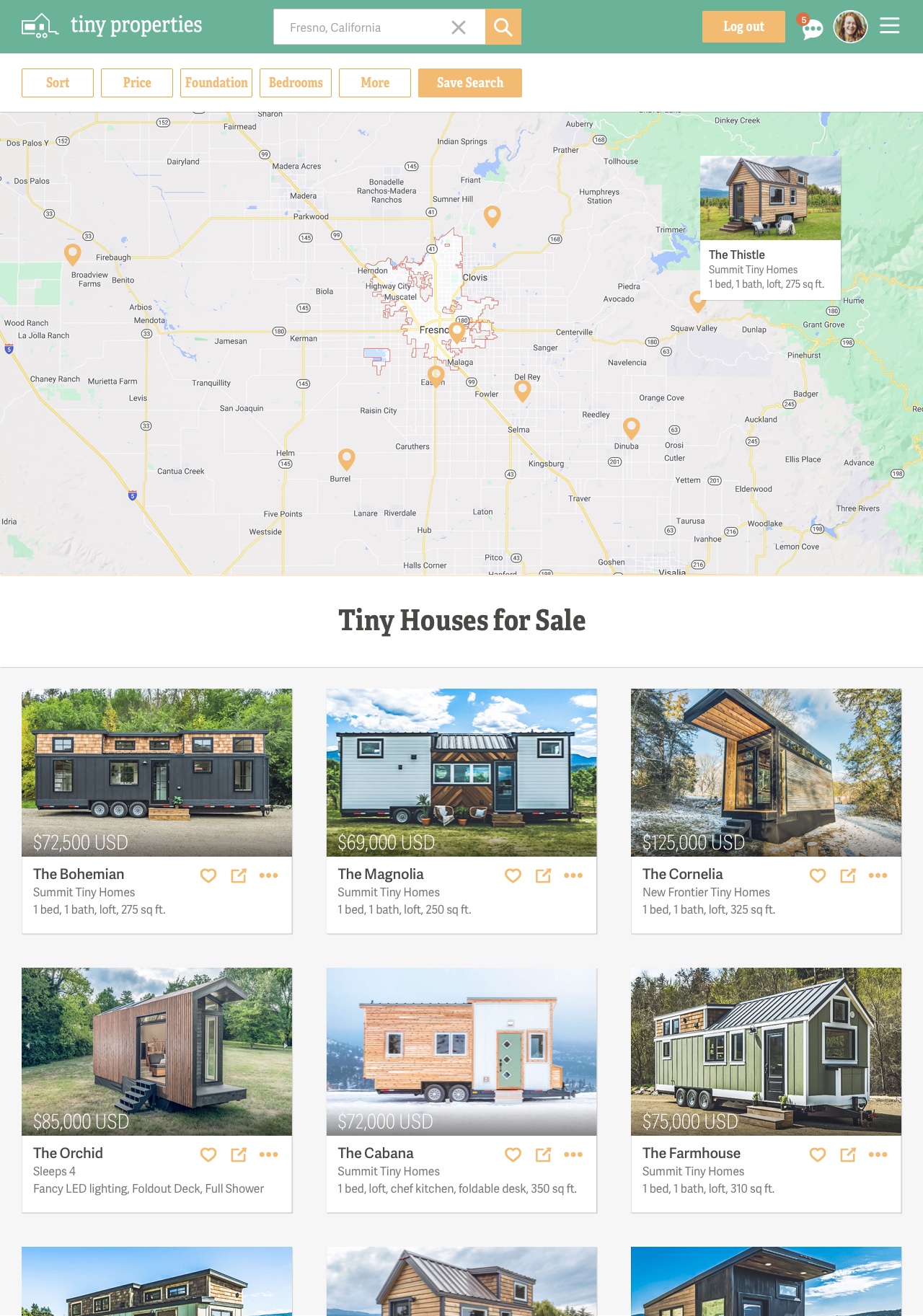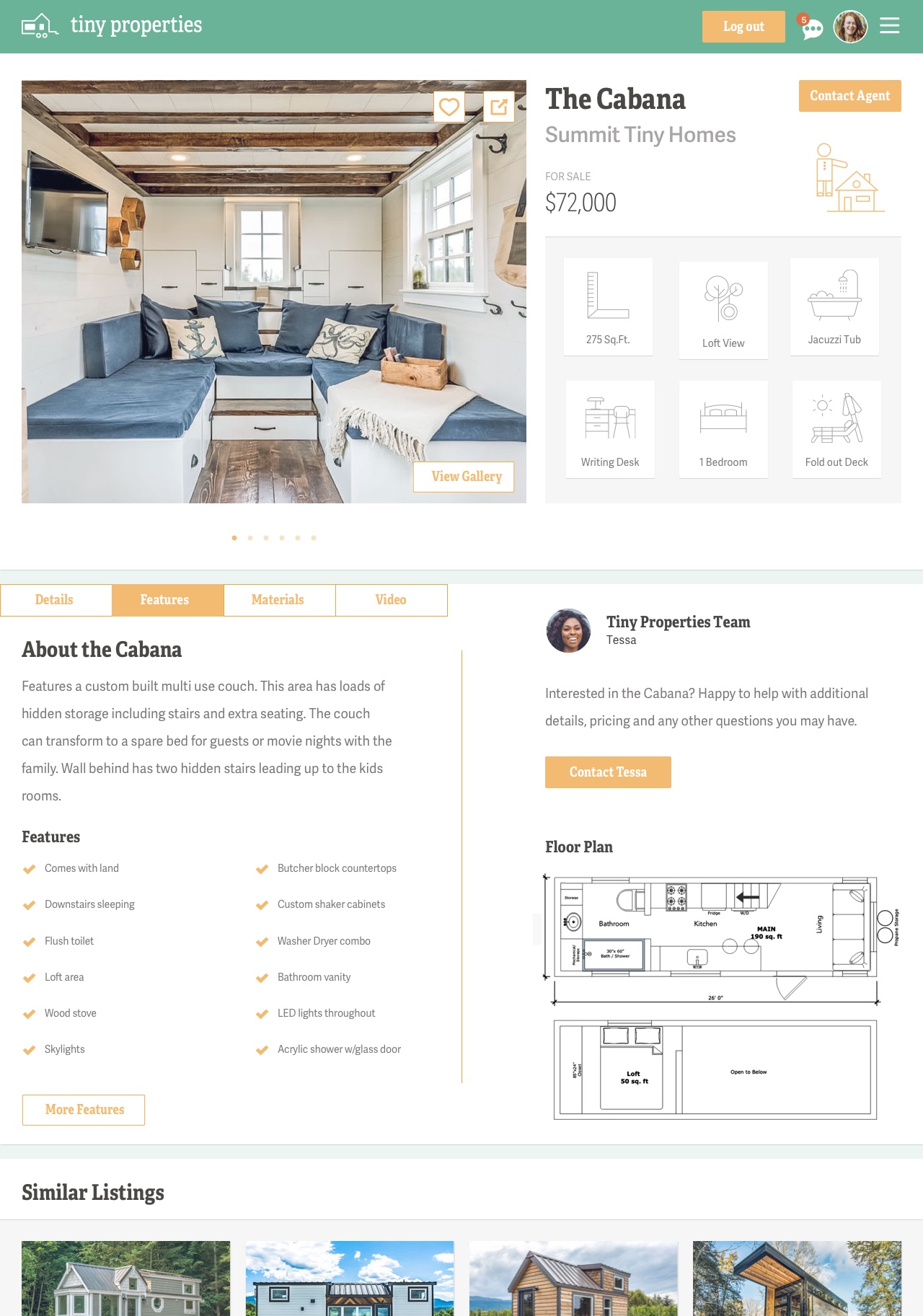 CUSTOM BUILD
Map feature connected with third-party integration is critical to help the user search desired locations for both Tiny Houses for sale and custom builders nearby.
Advanced search options with categories and filters provide the means for users to easily locate builders that will be able to accomodate their needs.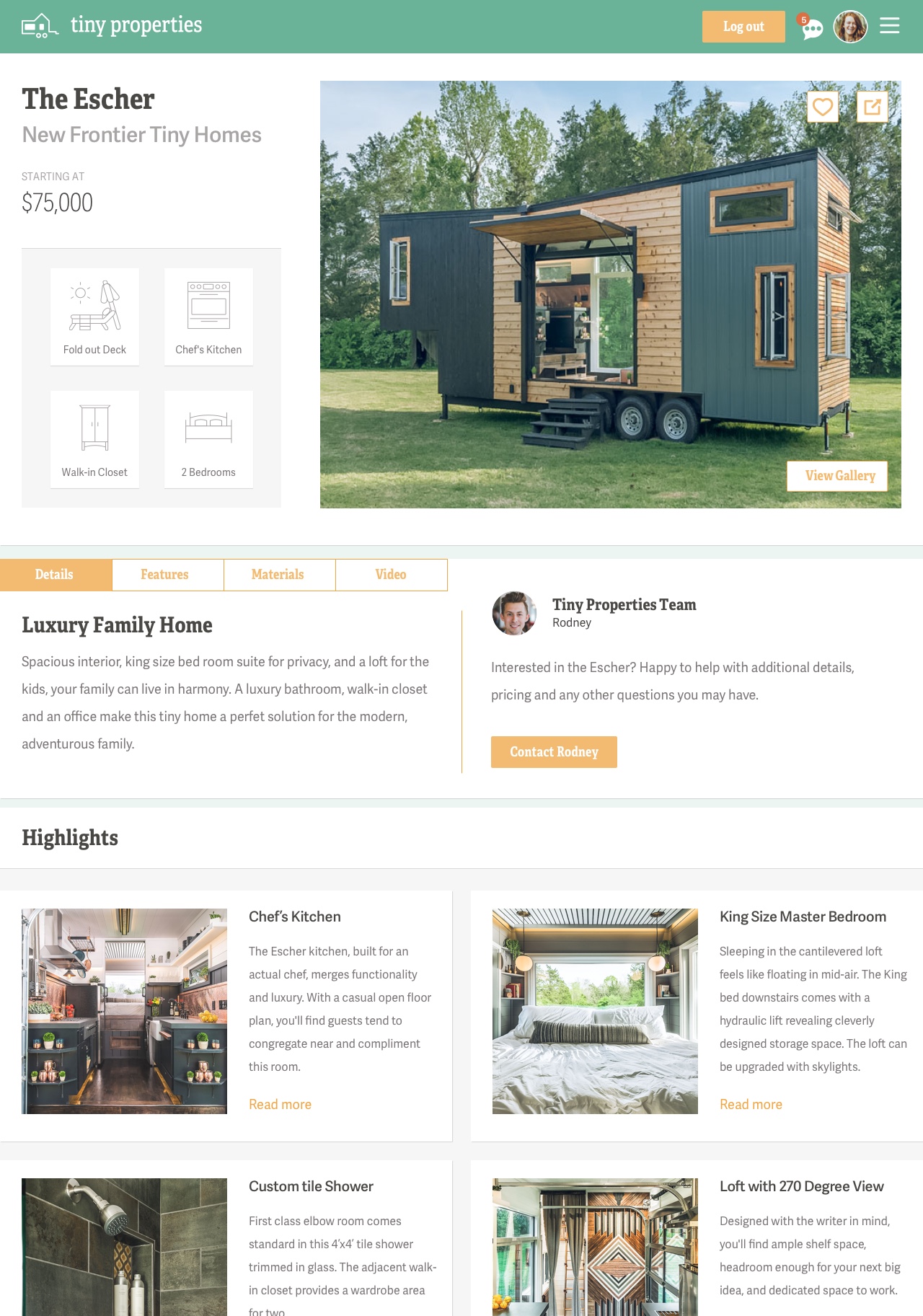 CONTACT AGENT
Real-time Messaging that is fast and hassle-free directly connects buyers with property agents and owners to facilitate clear communication
Messaging platform provides easy access to history for quick reference to past inquiries and transfer of images and videos as needed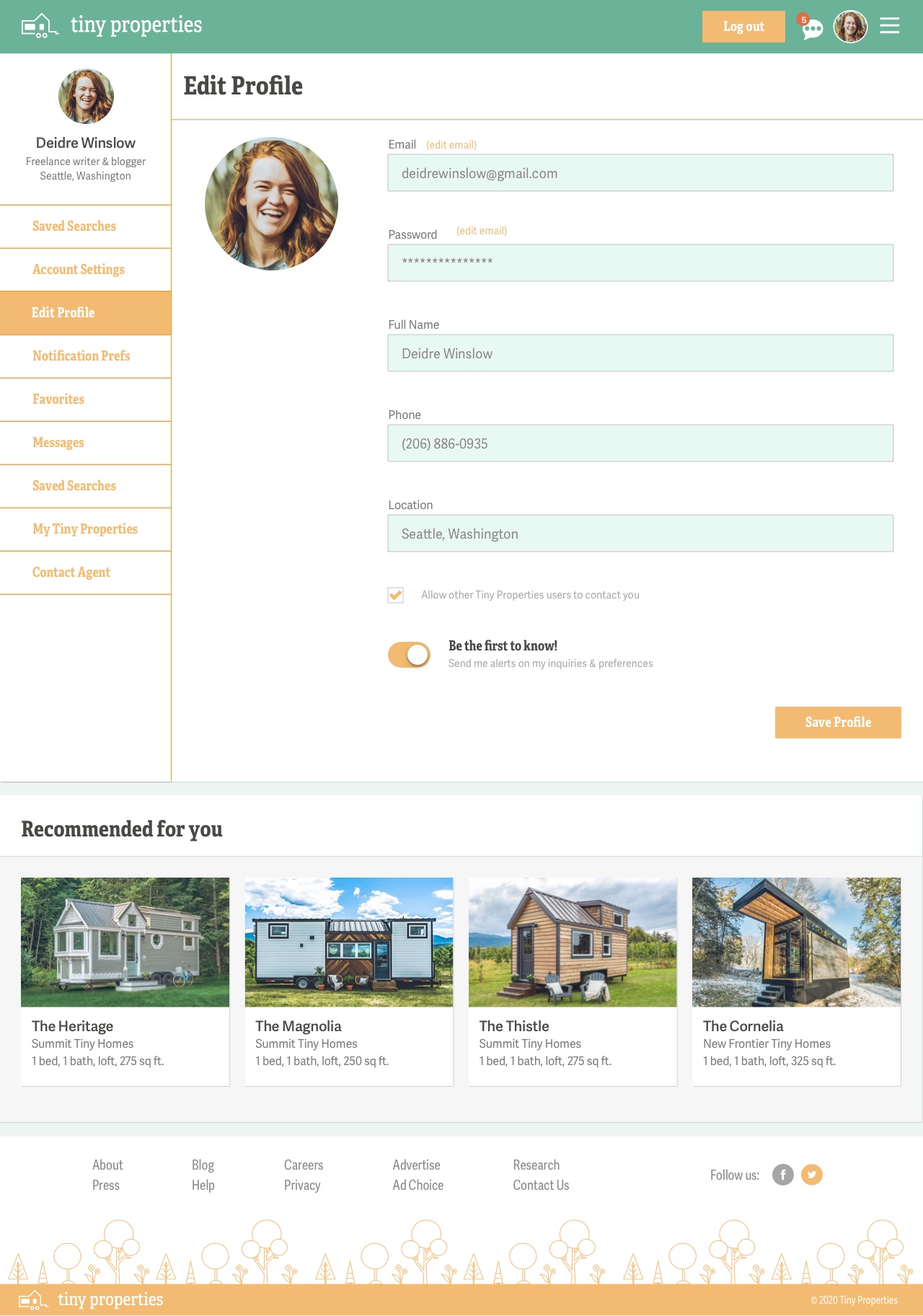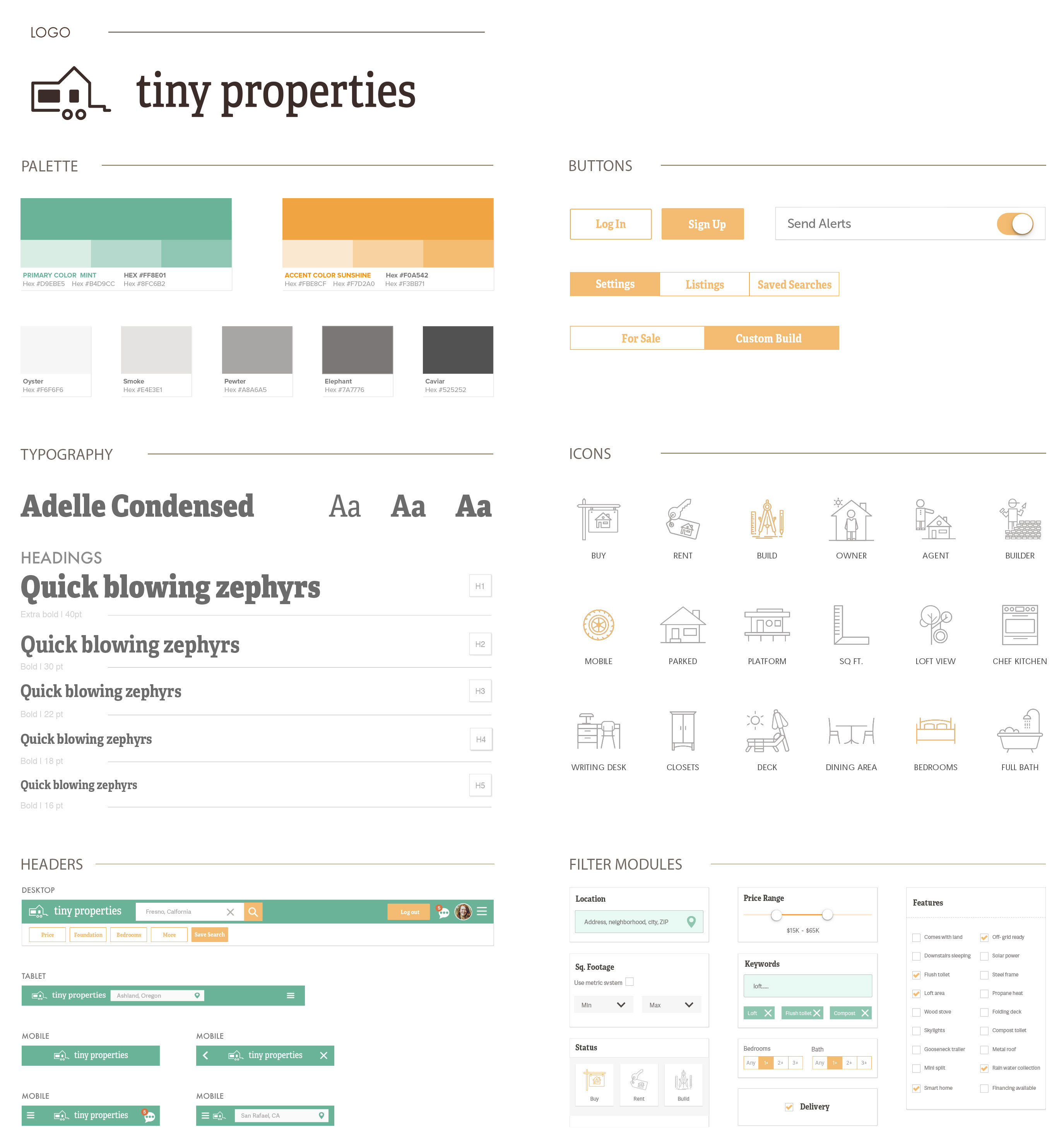 Tiny Homes create space for Large Living
Keep it simple. Do more with less.
Minimalism is a definitely a concept I kept in the forefront of my mind throughout this project. Within the context of Tiny House living, it provides a sustainable development perspective, offering the possibility of reducing ecological footprints while maximizing comfort and freedom.
From a design perspective, simplicity connotes clarity of concept and ideas. The use of restraint and intentionally choosing every element wisely focuses on what is absolutely fundamental and necessary.
Clean designs are a popular trend in the digital world and for very good reason, as the ultimate goals of minimalism are usability and economy— the ability to do more with less.
"The ability to simplify means to eliminate the unnecessary so that the necessary may speak."
— Hans Hoffman
Simplicity is not just about the way the site looks, it is about the user's overall experience interacting with the platform. Intuitive page navigation is a large factor which facilitates the user's ability to accomplish tasks easily and with focus. Negative space, clear typography, strategic contrast and minimal elements are all key essentials.
Tiny Properties was definitely a challenge for me to explore the power of a minimalist approach. I sought the balance to reduce complexity while simultaneously making sure to keep basic necessary elements front and center. My goal was to make content and features clear for users, not to hide them. I focused on minimalism as a philosophy, not just a style. I think this is the mindset that helps designers embrace and manage complexity while creating more efficient products. Definitely looking forward to lots more practice!